Return to Headlines
Committee begins fundraising for new afterschool literacy program
Community members can contribute to a new tutoring and mentoring program that will help students build their reading and writing skills. Community Consolidated School District 89 is partnering with the Glen Ellyn Children's Resource Center to establish an afterschool program at Glen Crest Middle School.
The program will work with students who need extra literacy support before they enter high school. It will be run in partnership with the Glen Ellyn Children's Resource Center (GECRC), which has established similar programs in Glen Ellyn District 41.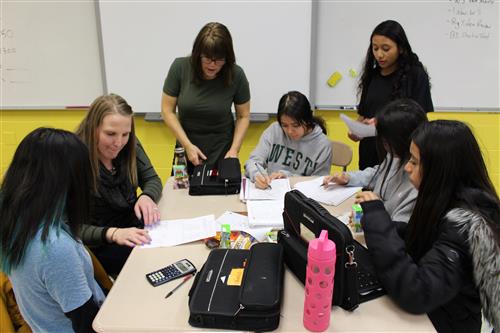 The CCSD 89 program will serve students from low-income homes who aren't showing the same academic growth as their peers. Some students are refugees or immigrants who have graduated from English-language services but are not yet reading at grade level. By establishing connections with volunteer tutors from the community, the afterschool program can help them in both academic and social skills.
"We have a fantastic group of kids who just need a little additional support," said Superintendent Dr. Emily K. Tammaru. "This group of students can absolutely make the same strides as their peers. The partnership with the Glen Ellyn Children's Resource Center would give these students another place where they can feel secure and thrive. It reinforces our district's goal of giving equitable experiences to all our learners."
The fundraising campaign began with a $15,000 commitment from the GECRC. A group of community volunteers has set a goal of raising an additional $85,000 to launch the program in the 2020-21 school year.
To donate, go to: https://www.gecrc.com/donate-today/
Choose "D89 Expansion" from the drop-down menu indicating where you would like your donation directed to.
You can also donate by mailing a check to GECRC, 346 Taft Avenue, Suite 205, Glen Ellyn, IL 60137.
GECRC is an established 501(c)3 organization, so donations are tax-deductible. A $1,000 donation would support a student for an entire school year and the summer. A $100 donation would sponsor a student for one month, and a $50 donation provides more than 20 hours of afterschool programming.
The $100,000 goal would fund the program for two years. It would cover the cost of staffing, volunteer management, and supplies. CCSD 89 will be providing facilities, additional resources, and staffing support.
In addition to monetary donations, the program will also be looking for volunteers to tutor and mentor students. There will be a variety of tutors from local high schools, colleges, and community groups to work with students from the time school gets out until about 3:45 p.m., when students board the bus. To complete a volunteer application, go to: www.gecrc.com/volunteer
A similar program in Glen Ellyn District 41 has shown powerful results: Many students who participated in the program for at least two years were able to exit English Language support services earlier than students who were not part of the program.
Photo from GECRC afterschool tutoring and mentoring program at Hadley Middle School in Glen Ellyn District 41.
Posted: January 14, 2020